FEIJOA-AUSTRALIA/2KG
Feijoa_Australia/2kg
Origin: Australia
Class 1
Size: 50g+/- per pc
Feijoas

Also known as Pineapple Guava, Guavasteen.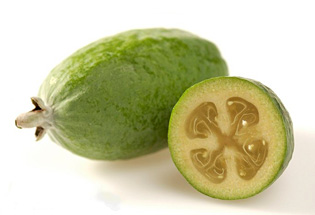 Botanical name - Feijoa sellowiana. In more recent times it has been renamed Acca sellowiana.
It is native to extreme southern Brazil, northern Argentina, western Paraguay and Uruguay where it is common in the mountains.
Feijoas prefer cool winters and moderate summers and are generally adapted to areas where temperatures stay above minus5 degrees C. Flower production is poor in areas with fewer than 50 hours of chill. The flavor of the fruit is much better in cool than in warm regions. Even thought the plants are relatively hardy, sudden fall frosts can damage ripening fruit and late spring frosts can destroy blossoms.
The feijoa is a slow-growing evergreen shrub that can reach 5 m high and 5m wide. The bark is pale gray and the spreading branches are swollen at the nodes and white-hairy when young. In addition to the fruit it provides, the shrub also doubles as a landscape specimen. When planted close together, the shrubs make a nice hedge, screen, or windbreak. Feijoas can also be espaliered or trained as a small tree with one or more trunks. It is a prolific fruiter with yields possibly exceeding 50kg on established trees.
The fruits range from 3 to 7cm long and vary in shape from round to elongated pear shape, with the persistent calyx segments adhering to the apex. The waxy skin is dull blue-green to blue or grayish green, sometimes with a red or orange blush. Skin texture varies from smooth to rough and pebbly. The fruit emits an attractive, strong, long-lasting perfume. The thick, white, granular, watery flesh and the translucent central pulp enclosing the seeds are sweet or subacid, suggesting a combination of pineapple and guava or pineapple and strawberry, often with overtones of winter green or spearmint. There are usually 20 - 40, occasionally more, very small, oblong seeds hardly noticeable when the fruit is eaten. Fruit ripens in April-May in Southern Australia.